As many of you know, Brad and Angelina recently wed at their home, 
Château M
iraval in Brignoles, France but many aren't familiar with it's history.
It has been purchased many times with renovations added to the property, which now includes 35 bedrooms, a spa, gym, home theatre, game room, dirt bike course, two helicopter pads, a lake, indoor and outdoor pools, pine forests, olive groves, and a moat.  Who wouldn't want a moat?  Jolie had a 200 year-old olive tree transplanted in the family's garden in 2010.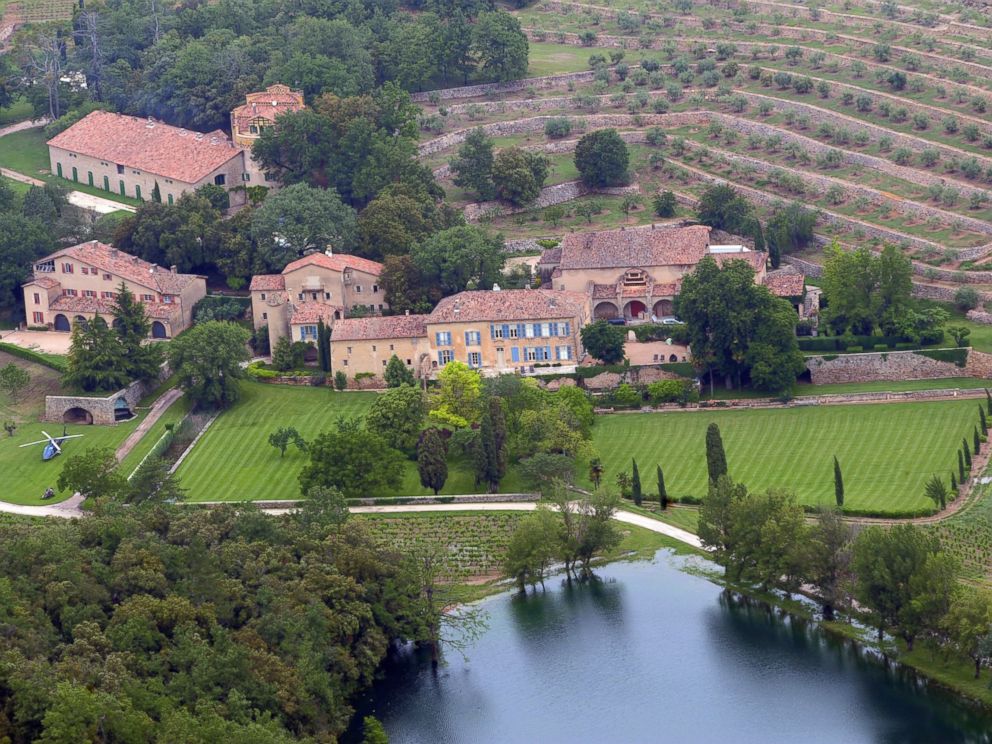 Perched upon 1,000 acres, 75 of which are devoted to producing wine.  The vineyards were created using organic and produce some of the best 
rosé, ranked upon the best 100 in 2013. 
 Miraval wines were launched on Valentine's Day in 2013 in collaboration with the Perrin family.  In March, their first 6,000 bottles of 
rosé sold out in 5 minutes.  O
ther wines include: grenache noir, blanc, and cabernet sauvignon.
The French-gothic style chapel on the grounds is where the wedding took place.  It was rebuilt in 1880 and fits about 20 people, perfect for a small wedding with just family and friends.
The c
hâteau has a history ~ 
The charming chateau's history dates back to the 13th century when it was a monastery.  It is believed philosopher and theologian, Saint Thomass of Aquinas, spent several days here. 
 In the 15th century, it was listed as a noble home when the Prince of Naples relocated to join the French Court.  
In 1970, 
Château M
iraval was purchased by legendary jazz pianist, Jacques Loussier, who created a recording studio on the property.  Pink Floyd recorded tracks for "The Wall" there in 1979.  Other artists recording here include AC/DC, Sting, and Muse. 
Angelina's Atelier Versace silk-satin dress featured detailed embroidered drawings of their six children.  Their artwork also appeared on Jolie's silk veil.
All six children took part in the wedding ceremony with their eldest sons, Maddox and Pax, walking the bride down the aisle.  Zahara and Vivienne threw flower petals while Shiloh and Knox served as ring bearers.  
Handwritten vows were exchanged with tears in their eyes as they read them to each other.
The family photo above is my favourite.  You can feel their happiness and sense of closeness as a family.
Brad and Angelina cut their wedding cake, which was made by their son, Pax.
Jolie stated, 
"It was important to us that the day was relaxed and full of laughter," the blissful newlyweds said in a statement. "It was such a special day to share with our children and a very happy time for our family."
I love the expressions while mom and dad kiss!
Brad Pitt's parents, William and Jane Pitt , with Zahara , Shiloh , Vivienne and Knox.
I believe the wedding was perfect and wouldn't change a thing!