Every year I await the arrival of cherry season, Ranier cherries to be specific.  This succulent fruit reigns supreme in our home.  Sadly, the season is short so I buy several pounds, some to enjoy now and others for later.  They're perfect to freeze and incorporate in other seasonal recipes.  Bonus: they're very rich in vitamins and minerals.  The only downfall is pitting.  Several years ago, a friend gifted me a cherry pitter (

here

and

here

).  This gadget has come in handy and I highly recommend one.  Otherwise, I've found the easiest way is smack the cherry on the side with a chef's knife and, voila!, the pit slides right out.
It was very hard for me to narrow down the recipes as I have so many.  I felt the ice cream recipe I posted the other day wasn't nearly enough so I perused the recipes I've accumulated and want to share some of my favourites.  Don't be afraid to alter the recipes a bit.  Sometimes I kiss off the pie crust and substitute phyllo dough instead, giving it a lighter taste that focuses on the filling.  I also like to shake up the pans that I use, individual or various shapes.  I especially love this rectangle shape one

here

and this

one

.
Traditional French Cherry Tart
Recipe

here

 (it will need to be translated, very easy)
Stone Fruit Tarts with Coconut Pastry Cream & Pistachio's
Recipe

here

.  The beauty of this recipe is that you can mix the fruits, plus the crust can be made gluten free.
Homemade Maraschino Cherries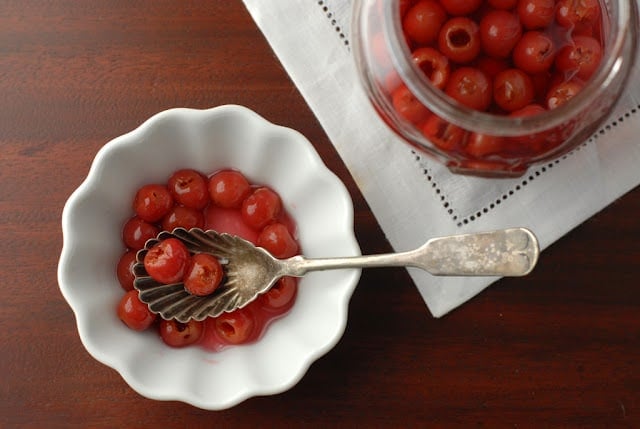 Slow Cooker Cherry Chipotle Pulled Pork with Cilantro Lime Slaw
I substitute the strawberries for cherries.  Recipe

here

.
Cherry Bakewell Tartelettes with Cherry Pit Ice Cream Milkshakes
Wishing you a beautiful day!
www.atelierdhautedesign.com