If you have followed this blog for awhile you know that I have a serious addiction to beautiful, French lingerie.  Each visit to Paris I come home with a luggage full of carefully chosen sets, garters, and hosiery from my favourite designers.  What is it the allure of French lingerie that make us love it so?  The most exquisite labels choose the finest fabrics and are made of detailed craftsmanship, many maintain a long tradition of silk and lace making.  Parisians take their lingerie very seriously and this is evident by the number of boutiques one can find in each Quartier.  These boutiques showcase some of the best window displays I've seen.  Why don't we have many of these in the U.S.?  Below is a round-up of my favourite boutiques.
Fifi Chachnil: Fifi's playful, pin-up style is one of my favourite stops.  Not only does she design beautiful lingerie, but clothing as well (I'm smitten with the dresses and babyloo), and a lovely parfum (my favourite also).  She has also created the costumes for the famed Crazy Horse.
231 rue St. Honoré, 75001 Paris – There are three boutiques but this is the one I frequent


Chantal Thomass: One of the pioneers in lingerie, Chantal signature style is evident in her avant-garde lingerie and hosiery designs… and I love my umbrella.
211 rue St Honoré, 75001 Paris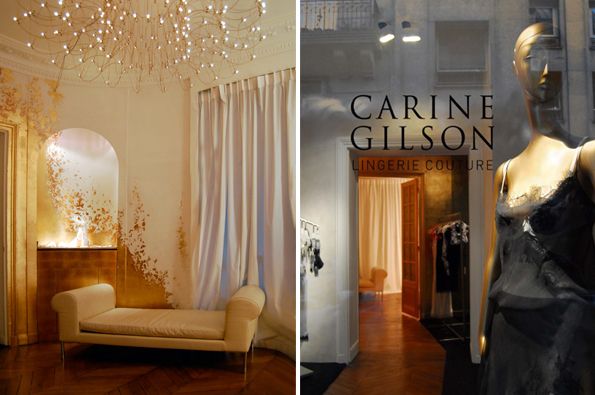 Carine Gilson:  Beautiful, handmade lingerie of natural silk and and delicate French lace with a price tag to match.
18 rue de Grenelle, 75007 Paris


Cadolle: Herminie Cadolle is credited with inventing the bra in 1889 and generations later, this boutique sells corsets that will have you looking svelte under that body skimming dress.
4 rue Cambon 75001 Paris


Agent Provocateur:  A wide range of exquisite bras, knickers, suspenders, stockings, corsets, basques, and garters.
17 rue Cambon, 75001 Paris


Aubade: Their designs are synonymous with romance and romance.
Various locations
Sabbia Rosa:  This designer boutique nestled in the 6th Arrondissment offers a large selection from various luxury designers.
73 rue des Saints-Pères, 75006 Paris
Do you have a favourite lingerie brand or boutique?
xoxo,
B